News
Andrés Orozco-Estrada has been appointed Music Director Designate of the Wiener Symphoniker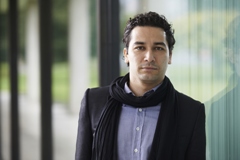 Andrés Orozco-Estrada has been appointed Music Director Designate of the Wiener Symphoniker as of the 2021-2022 season.
He will work with the orchestra already in the 2020-21 season as Music Director Designate. As successor to Philippe Jordan, he will then become the 16th Music Director of the tradition-steeped Viennese orchestra. The working relationship is initially planned to last five years. In addition to concerts in Vienna, Bregenz and on tour, Orozco-Estrada will direct the orchestra in opera performances and CD recordings
Andrés Orozco-Estrada says of his appointment: "For me, with their rich tradition, the Wiener Symphoniker are ambassadors of Viennese musical culture. I'm delighted to be able to help ensure the orchestra's outstanding quality continues into the future and to take part in developing new projects. I have made it my mission to build an even closer connection to the Viennese public, to bring our music to as many people as possible and at the same time to promote the Wiener Symphoniker's international presence! To conduct this outstanding orchestra from my musical hometown is powerful motivation for me in our work together, in which I'll invest all my energy."
Johannes Neubert, Intendant of the Wiener Symphoniker, comments: "Andrés Orozco-Estrada is one of the leading conductors of his generation and we're happy to have been able to secure his services. What especially connects us with him is the idea of further developing Viennese musical culture in a fresh and open way. Orozco-Estrada's openness to new ideas and his stylistic versatility enable us to establish the Wiener Symphoniker even more powerfully as an innovative force from and for Vienna."
Orozco-Estrada made his debut with the Wiener Symphoniker in 2006 and has conducted the orchestra eight times since then – most recently in the Wiener Musikverein in October 2017. Another four concerts are planned together in the 2018-19 season: in addition to an orchestral concert at the Bregenz Festival, Orozco-Estrada will also conduct the three traditional New Year's concerts in the Wiener Konzerthaus featuring Beethoven's Ninth Symphony.